Rev up your engines: The 2023 Mustang is here.
Get ready to rev your engines and feel your pulse quicken as you slide behind the wheel of a 2023 Ford Mustang. With its signature growl and unmistakable style, this iconic vehicle is built for speed, power, and undeniable flair. Designed with precision handling and high-powered engines, the Mustang is a timeless masterpiece that continues to evolve with each new model. 
Whether you opt for the standard 2.3L EcoBoost® engine or the adrenaline-pumping 5.0L Ti-VCT V8 engine, you'll experience the thrill of the open road like never before. And with a range of race-inspired features and components, the 2023 Mustang is poised to deliver top-notch handling performance whether you're cruising through the streets or pushing the limits on the track. So buckle up and get ready for the ride of your life in the 2023 Ford Mustang.
Precision, Power, and Performance: The 2023 Mustang Engine Trio
Whether you're looking for speed, efficiency, or a blend of both, the 2023 Mustang's engine lineup is poised to exceed your expectations. From the eco-friendly yet powerful 2.3L EcoBoost® to the high-octane 5.0L Ti-VCT V8, the Mustang lineup has something for everyone.
2.3L I4 EcoBoost Engine
Prepare to feel the power with the all-new 2023 Ford Mustang's EcoBoost engine. With a turbocharged 2.3L I4 under the hood, this beast is ready to roar with 310 horsepower and 350 pound-feet of torque. Whether you prefer the precision of a six-speed manual transmission or the smooth shifting of a 10-speed automatic, the EcoBoost engine delivers a peppy and exhilarating ride that will leave you breathless.
2.3L I4 High Performance EcoBoost Engine
With the High Performance Package, you'll unlock an EcoBoost powerhouse that packs a serious punch. This 2.3L I4 EcoBoost engine boasts a 63-millimeter twin-scroll turbo compressor, a diecast alloy block, and a high-performance cylinder head, delivering an impressive 330 horsepower and 350 pound-feet of torque from its four cylinders.
5.0L Ti-VCT V8 Engine
Experience the raw power of the Mustang GT and Mach 1 with the naturally aspirated 5.0L Ti-VCT V8 engine. This eight-cylinder beast delivers a heart-pounding 450 horsepower and 410 pound-feet of torque under the hood of the GT, and an even more impressive 470 horsepower in the Mach 1. Whether you prefer the precision of a six-speed manual or the smooth shifting of a 10-speed automatic, the Coyote engine is ready to take on the open road with unbeatable performance.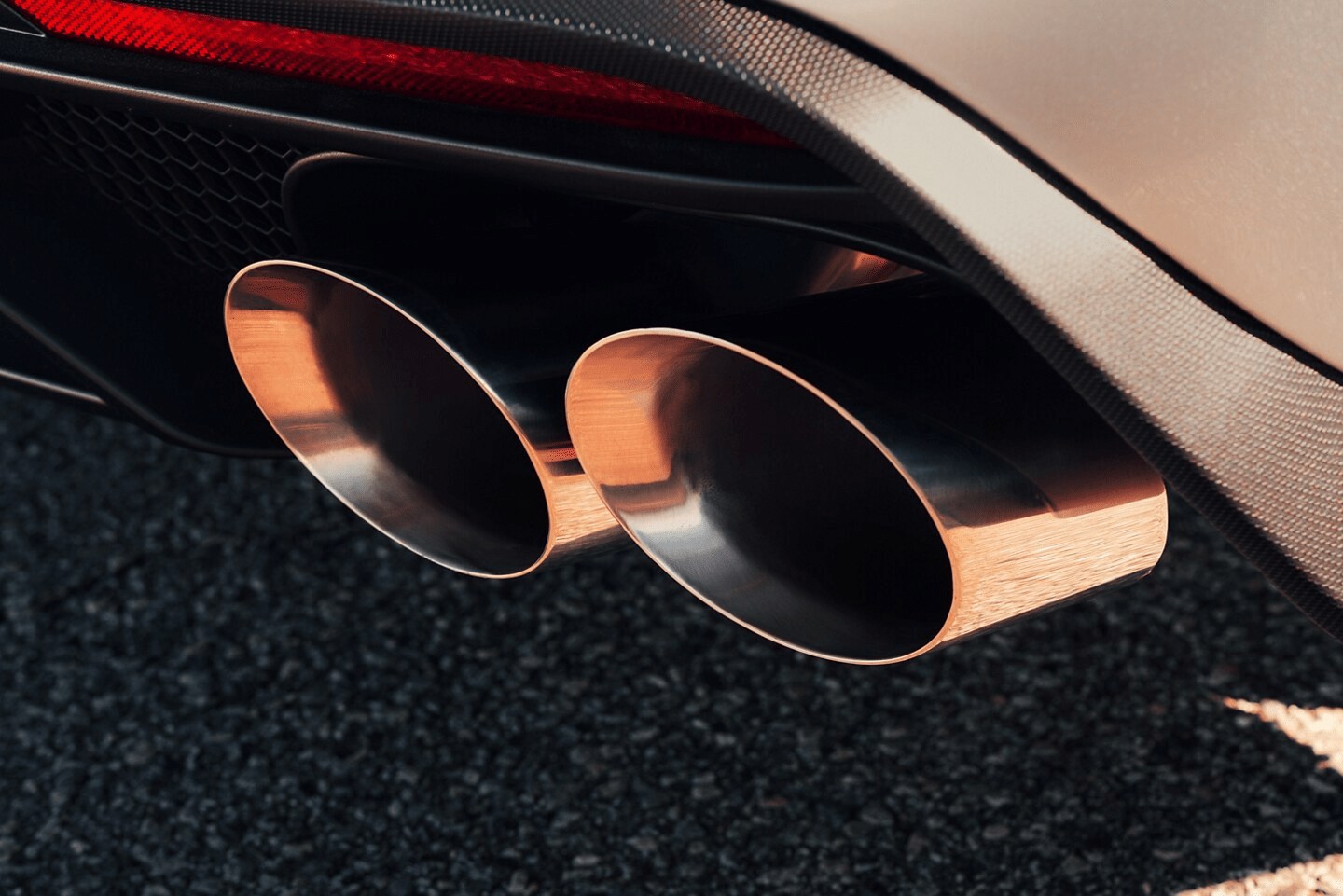 Shift into High Gear
With its 10-speed architecture and patented Ford technology, the new Mustang is designed for maximum performance and speed. Whether you're pushing the limits on the track or cruising through the streets, you'll enjoy precise and accurate upshift and downshift capability that puts you in control of the road. And with steering wheel-mounted shift paddles, you'll feel like you're behind the wheel of a true race car. So why settle for an ordinary ride when you can make the pavement your playground with the 2023 Ford Mustang? Shift into high gear and experience the thrill of unmatched performance and precision handling.
The 2023 Ford Mustang's Five Trim Levels
Get ready to experience the thrill of the open road with the 2023 Ford Mustang, a timeless American classic that continues to captivate drivers with its unparalleled performance and undeniable style. Whether you're a die-hard fan or new to the Mustang family, you're in for a treat with the five available trim levels for 2023.
Mustang EcoBoost 
Feel the power with the Mustang EcoBoost — available in fastback or convertible. Boasting a 2.3-liter EcoBoost engine, six-speed manual transmission, and producing 310 hp and 350 lb-ft of torque, this vehicle is built to perform. With sleek LED headlamps, dual bright exhaust with rolled tips, and standard driver assistance features, the EcoBoost is the ultimate driving machine. Get ready to hit the road with confidence and style in the 2023 Mustang EcoBoost.
Mustang EcoBoost Premium 
This sleek and powerful vehicle is available in both fastback and convertible models. With an enhanced engine for improved handling, heated and cooled leather-trimmed front bucket seats, and dual-zone electronic temperature control, this Mustang is built for comfort as well as performance. Enjoy a faster, more responsive infotainment system and selectable drive modes with toggle switches. Plus, the exterior features heated mirrors and turn signal indicators for added convenience and safety.
Mustang GT
With a powerful 5.0-liter Ti-VCT V8 engine under the hood, this iconic fastback is built for pure, unadulterated speed. Boasting an impressive 460 horsepower and 420lb-ft of torque, the Mustang GT is designed to leave all other cars in the dust. And with larger front and rear brake rotors, handling has never been smoother or more precise. But that's not all - the electronic line-lock feature lets you lock the front brakes for a thrilling burnout that will leave everyone in awe.
Mustang GT Premium
Available in a sleek fastback or a sporty convertible, this Mustang is the epitome of style and performance. Featuring the powerful GT Fastback engine and selectable drive modes, the GT Premium offers unparalleled handling and control. But it's the interior where this Mustang truly shines, with heated and cooled leather-trimmed front bucket seats that provide maximum comfort and luxury. And with six-way power adjustment for both driver and passenger seats, you'll always find the perfect driving position.
Mustang Mach 1
The legend has returned in full force for 2023. With a heart-stopping V8 engine that churns out an impressive 470 horsepower, this powerhouse of a vehicle is built to deliver an adrenaline-pumping experience every time you get behind the wheel. Boasting an active exhaust system, MagneRide, heavy-duty front springs, a rear spoiler, summer tires, and a host of other cool, sporty features, the Mustang Mach 1 is a driving enthusiast's dream come true. 
From luxury to power: J.C. Lewis Ford Hinesville has the perfect Mustang for you
Get ready to unleash your inner Mustang and hit the road with J.C. Lewis Ford Hinesville. The Ford Mustang is a true American icon, with a legacy of unmistakable style and unmatched performance that continues to captivate drivers everywhere. At J.C. Lewis Ford Hinesville, we're proud to offer a vast selection of Mustang models that are sure to satisfy every need and desire. Whether you're looking for the latest in luxury and technology or a top-of-the-line engine that turns heads, we have the perfect 2023 Ford Mustang for you. With a variety of configurations to choose from, you can customize your ride to fit your unique lifestyle and personality. Don't settle for an average car when you can have a Mustang that's tailored to your specific needs. Visit J.C. Lewis Ford Hinesville today and experience the ultimate in Mustang performance and style.
Mustang magic: Advanced safety technology for thrilling rides
Experience the ultimate in driving safety and performance with the 2023 Ford Mustang. This sleek and stylish vehicle comes equipped with advanced technologies to help keep you in-the-know and in control, even as you push the limits. With available SYNC® 3 and Ford Co-Pilot360™ technology, you'll have all the tools you need to stay on track and make the most of every drive. The Track Apps® feature allows you to instantly access and utilize a wide range of performance metrics, all from the comfort of your driver's seat. And with driver-assist technologies like BLIS® (Blind Spot Information System) with Cross-Traffic Alert, Lane-Keeping System, and Pre-Collision Assist® with Automatic Emergency Braking, you can navigate even the busiest roads and highways with confidence.